Hervey Bay Fly and Sport Fishing Charter without a doubt has been one of the best charters I have been on within Australia. Hervey Bay, with its abundant waters providing a variety of fish all year round in its self makes an amazing fishing location. However that's not what makes an outstanding charter service. Andrew Chorley + Hervey Bay is what makes Hervey Bay Fly and Sport Fishing an outstanding Charter. Andrew Chorley is an experienced angler and an experienced Fisher Guide who goes out of his way to ensure everyone on board is well looked after and landing those fish!
I am looking forward to the next few charters I have booked in with Hervey Bay Fly and Sport fishing with Andrew Chorley. Counting down the days already!
If you were thinking of chasing Tuna on fly, I couldn't recommend Hervey Bay and Andrew Chorley more highly. And if you get bored chasing large numbers of Longtail and Mackerel Tuna, Andrew knows all the reefs that will produce Golden Trevally, Brassy Trevally, Tuna, and various Mackerels with a fast sinking fly line. And then there is the flats fishing for Golden Trevally, and possibility of a Tuna or juvenile Black Marlin on the same flats!
Fraser Island provides shelter from the prevailing southeasterlies which allows more time on the water. With Andrew's fantastic boat handling skills it is still possible to pick up fish in even a strong winds. A walk along the 700m long Urangan Pier will reveal millions of baitfish, and with all the baitfish in the area it is no wonder there are so many predatory fish on offer for the fly fisherman.
Hervey Bay is relatively cheap to get to, and accommodation is also reasonably priced. For those of us with families, Hervey Bay is also a great place for the family while you are out on the water!
I fished with Andrew in late April 2015, and had an absolute blast, using only the fly rod for the entire 5 days. I enjoyed my trip so much that I have booked Andrew again for late September 2015.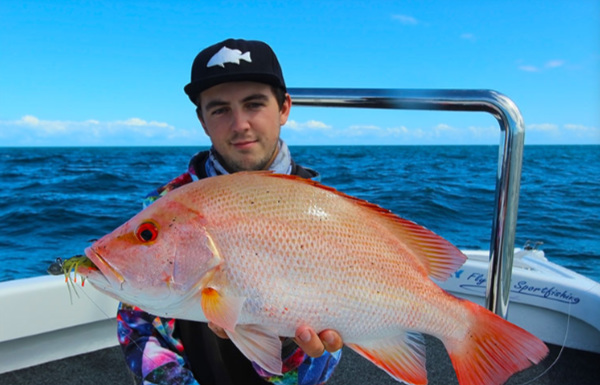 I've been fortunate enough to fish with Andrew a couple times whilst in Hervey Bay and each trip has been nothing short of great.Andrew is a great skipper with a very well maintained boat perfectly suited for fishing along the Fraser coast, he has an immense amount of local knowledge of the area and always goes out of his way to ensure myself and my mates have a great day on the water.
When booking with Andrew, he took the time to understand what species we were wanting to target and would help us plan a trip for when those species were commonly around or advise us what options we had if it was a short notice trip.I've landed some fantastic fish whilst on Andrew's boat, 10kg Golden Trevally, 15kg Longtail Tuna and many other species and I can't wait to get back out there again to try catching some of these fish on fly.I would not hesitate to recommend Andrew to anyone who is looking for a guide to fish the Fraser Coast.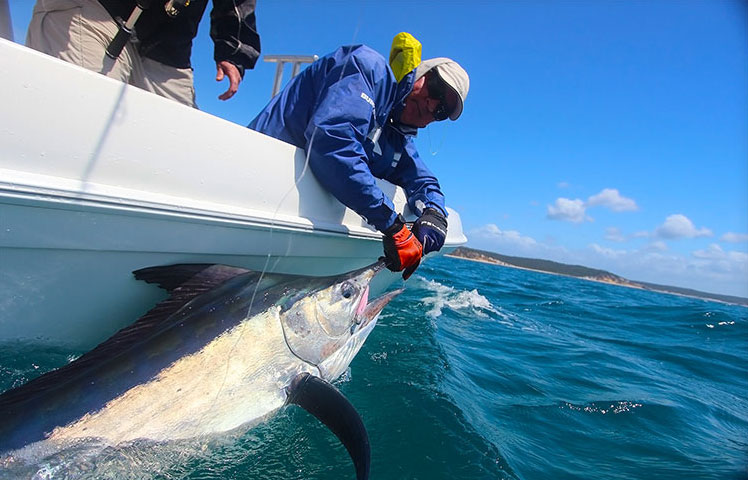 Hervey Bay has always been one of my favourite fishing grounds. The place holds a large variety of fish all year round and whilst there are plenty of experienced local guides to take the keen fishermen out, there is always one or two guides that stand out amongst the crowd. They are the ones who would always go the extra mile just to get their paying customers onto a new PB (personal best) or to land the fish of a lifetime and strike it off the old bucket list. Personally for myself, that man would easily be Andrew Chorley of Hervey Bay Fly and Sportfishing charter.
I first met Andrew in early 2013 and immediately took a liking to his easy-going attitude. Before my first charter with him, there were a lot of email exchanges with numerous questions from me and every reply back from Andrew was polite and honest. On my first trip out with him, I was so impressed with his work ethics and knowledge that eventually, he became my go-to guide around the Hervey Bay region. Each trip would eclipsed the one before and they are always exhilarating, thrilling and stimulating moments all rolled into one. The man worked tirelessly to get my mates and myself onto pods of Longtail Tunas, Snappers and many different species of Trevally, and even with the light fading into the horizon, Andrew was always more interested in getting us onto MORE fish than actually retiring back to the ramp. This is a man who is truly passionate about fishing and his role as a charter guide. If you wish to experience the ultimate fishing adventures in Hervey Bay and wants a reliable, honest and occasionally humorous guide, Andrew Chorley is your man.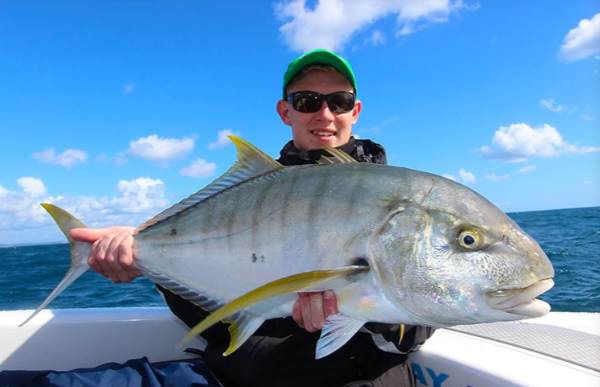 I've done two trips with Andrew over the last year or so; the first in December chasing tuna, queenies, and thread-fin salmon amongst assorted other species; the second in May chasing barra and kingfish. The highlight has to be casting a fly to a black marlin that swam under the boat, although catching 3 barra in 4 casts from one snag comes a close second.
The whole experience fishing with Andrew was fantastic, the place, the boat, the company and of course the fishing. I have never fished with a guide who worked so hard to give the client what he wanted (I needed a holiday to get over my holiday) or who was so easy to get along with. A thoroughly enjoyable experience, I can't wait to get back.
Andrew Chorley from "Hervey Bay Fly and Sport Fishing" is a very experienced angler and an exceptional Fishing Guide. I have fished with Andrew many times and he has always used his expert knowledge of his home waters to produce the goods time and time again. If you dream of hooking that big powerful fish of a life time, Andrew is the man to make it happen. I had my best ever day catching long tail tuna on fly with Andrew, with 10 fish hooked and 8 landed and released. Even my girlfriend (with his help) was able to cast to, hook, and land her very own tuna's on spin gear.
When you fish with Andrew Chorley you can be confident that he will do all that is needed to get among the best action on the water, he will always know what's around and where it's going to happen. With Andrew driving the boat and giving instructions when needed, all that's left for you to do is grab a rod and get stuck into some of the best fishing of your life. Whether you're a beginner or a master, lure or fly fisher, I would recommend fishing with Andrew and his guiding operation to anyone.
Fishing for snapper in June of 2013, Andrews' local knowledge of Hervey Bay waters is extensive when it comes to finding fish. I told Andrew that my target fish for the trip was snapper. The weather wasn't the best, but this did not faze Andrew at all. We trolled around and flicked soft plastics. The results were amazing.
We caught Mac Tuna and Mackerel on troll. Our target fish (snapper) were caught at night. Fishing for snapper at night is only done during winter. Andrew covered 100 km around the waters of Hervey Bay searching for snapper. He goes the extra mile when taking you out fishing. If you are looking for a fishing guide with local knowledge and a great day on the water, then I highly recommend Andrew Chorley of Hervey Bay Fly and Sports Fishing.